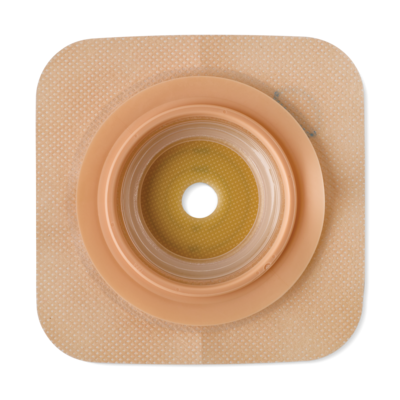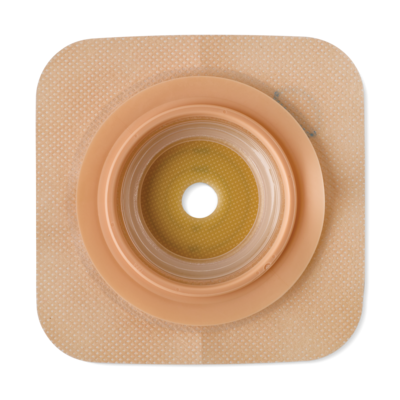 ConvaTec Natura Convex Skin Barrier with Accordion Flange
$182.75
Description
Additional information
Reviews (0)
Specifications
Description
The Natura Convex skin barrier with accordion and cut-to-fit opening is designed to make pouch application easier and more comfortable. It lifts easily to provide generous finger room so coupling is easy and comfortable.
Natura convex skin barriers are:
Comfortable and discreet
Simple to measure and cut
Compatible with a range of Natura pouch options
Available in Durahesive with acrylic or hydrocolloid tape collars
Benefits of Convexity
Convex skin barriers are designed to push down on the peristomal skin to protrude the stoma so that output is emptied into the pouching system.
Furnish peristomal skin protection by providing a sustained and predictable wear time
Helps maintain a secure seal between the pouch and the skin
Helps protect from leakage and peristomal skin breakdown
Helps the wearer feel more comfortable and secure
Provides simple-to-use stoma care
Additional information
| | |
| --- | --- |
| Weight | 1 kg |
| Dimensions | 30 × 25 × 20 cm |
| Item Number | 421638, 421640, 421642, 421639, 421641, 421643 |
| Brand | ConvaTec |
| | | | | |
| --- | --- | --- | --- | --- |
| Item Number | Description | Colour | Size | Quantity |
| 421638 | Durahesive Convex Skin Barrier with Cut-to-Fit Opening and Accordion Flange with Acrylic Tape Collar (45mm) | White | 13-22mm | 10 per box |
| 421640 | Durahesive Convex Skin Barrier with Cut-to-Fit Opening and Accordion Flange with Acrylic Tape Collar (57mm) | White | 13-35mm | 10 per box |
| 421642 | Durahesive Convex Skin Barrier with Cut-to-Fit Opening and Accordion Flange with Acrylic Tape Collar (70mm) | White | 13-48mm | 10 per box |
| 421639 | Durahesive Convex Skin Barrier with Cut-to-Fit Opening and Accordion Flange with Hydrocolloid Tape Collar (45mm) | White | 13-22mm | 10 per box |
| 421641 | Durahesive Convex Skin Barrier with Cut-to-Fit Opening and Accordion Flange with Hydrocolloid Tape Collar (57mm) | White | 13-35mm | 10 per box |
| 421643 | Durahesive Convex Skin Barrier with Cut-to-Fit Opening and Accordion Flange with Hydrocolloid Tape Collar (70mm) | White | 13-48mm | 10 per box |