Regain Your Mobility – Shop Mobility Aids Online & Save Big
nulifeadmin
Until and unless we can move around freely, we do not care about maintaining our health. Nonetheless, as we suffer some health issues that cause some type of immobility in the body, you may consider getting a device or tool that could help us move around and walk properly. Different companies today are offering a wide range of mobility aids to choose from that help regain your mobility and confidence.
You can choose mobility aids as per your requirements. Such equipment, varies from bathroom aids to stairlifts to the living room, and from mobility scooters to walkers, allowing you to freely move around. Among all, walkers, walking sticks, and wheelchairs are the most prevalent options and are bought temporarily. Since people get injured – for instance, break a leg – they need to carry on with their routine activities. Mobility aids help such people regain their mobility, allowing them to overcome their movement limitations.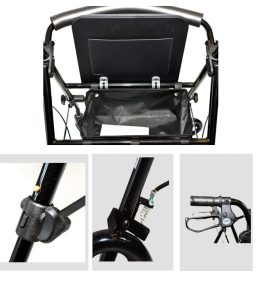 Buy Mobility Aids – Wheelchairs & Scooters
As it has been mentioned earlier, these aids come in a myriad of types to help people in different conditions. Below are some of the major types of mobility aid options available today:
–         Walkers
Walkers are beneficial for patients, who are unable to put pressure on the body and walk by themselves. These devices differ from walking frames to walking sticks. This helps the elderly walk around with ease allowing them to conveniently carry out their routine tasks.
–         Wheelchairs
This is relatively the best mobility tool. Wheelchairs are often seen in hospitals wherein some patients are unable to move around on their own. A chair with two wheels makes it easier for an individual to move around or can be pushed by a guardian. Wheelchairs come in different forms from pediatric to standard lightweight wheelchairs.
–         Mobility Scooters
Electric scooters operate just like wheelchairs, with the only difference being the electric part. Some of these devices have a basket attached, allowing people to keep their belongings within reach.
There are several other types of mobility aids available including bathroom aids, rise, and decliners, stairlifts, and so on, which are beneficial for the elderly or the disabled. In this era, having quality mobility aids enable patients to take care of themselves without being dependent on others. It is a must to opt for these devices to regain your mobility and be confident in your mobility.
Nulifehealth.ca offers a wide range of mobility aids to make your life easier. Browse through the website and explore a wide range of durable and high-quality mobility aids today!